If you decided to build a camera specifically for landscape photography, surely it would look exactly like the Leica Q! The stabilized 28mm lens is the perfect focal length for wide-angle shots of seascapes, mountain ranges, and cloudscapes. And being a full-frame, 24 megapixel camera means the images have outstanding quality.
Why is the Leica Q Ideal for Landscapes?
The Rugged Build: The Leica Q is a solid camera. Its top panel is machined from a single block of aluminum, and the lower part of the body is made from magnesium alloy, so it's no wonder it feels strong and reliable. Even the buttons and dials are made of metal. Adding to its sensational appearance, the front of the camera is wrapped in a textured, leather-like material, which makes it easy to grip when your hands are damp. There's craftsmanship in this camera! And even though it's not weather-sealed, the Q seems to handle light rain and dusty environments well, so it's ideal for shots of the coast and scenes of mist-covered forests.
Having dropped and knocked my camera a few times, it's proven to be tough and durable. But maybe I've just been lucky, and perhaps the camera hasn't landed screen-side-down on any sharp rocks. The lens is fine because I always have the Q-Cap attached while walking to my next shooting location. I want to keep that sensational Summilux lens in pristine condition! Because the Q-CAP is made from aerospace-grade aluminium, I know it will protect that lovely piece of glass at the front of the camera.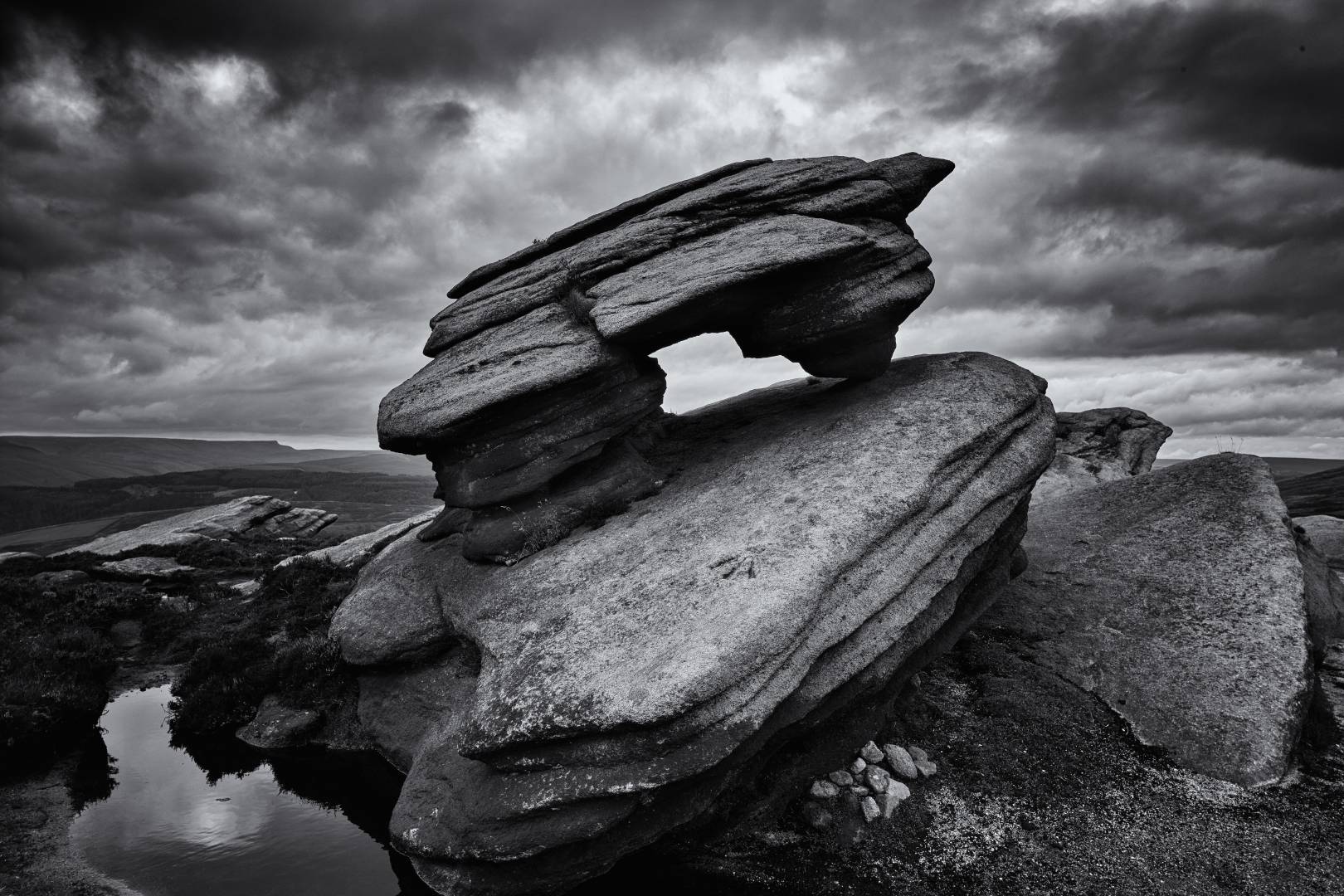 The 28 mm Lens: Leica chose 28 mm as a focal length for this camera because of its versatility. It's a fantastic option for street photography and day-to-day use, but it really shines when shooting landscapes. A 28 mm lens allows you to fit a lot of scenery into the frame. Even though it's tempting to make all the objects in the distance your main point of interest, remember to pay attention to the foreground. It's important to find an extra subject to draw the viewer into the photo. The Leica Q's lens allows you to move close to foreground subjects such as colorful wildflowers, a smooth boulder, or a majestic tree. Experiment with its f/stop range (up to f/16), and you'll discover stunning depth of field across the narrow apertures that keep everything sharp from front to back. Avoid the 'Auto' setting on the Leica Q when shooting landscapes. The default aperture while on 'Automatic' is f/1.7, so if you want a good level of depth of field, change to 'Aperture Priority' and use a more appropriate lens opening for the type of landscape shot you are trying to achieve.
Being a wide-angle lens, you need to step in closer to foreground subjects than you might realize. Unless you are right next to them, they will be too distant to catch anyone's attention. Moving closer to one of the elements in your photo makes the image stronger. If you feel creative, you can expand upon this in a novel way. I've been experimenting with the concept of negative space, and the field of view on the Leica Q does this form of composition to perfection. With its wide view, you can deliberately choose to leave an empty area around your subject to create an artistic, negative space image. This composition technique prioritizes the closest element and makes it stand out. In this form of a simple, uncluttered image, the viewer's eyes immediately go to the isolated subject. It adds a degree of peacefulness to the photo, which is often the aim of a landscape shot.
Even if you don't intend to take a photo using the sky as an area of negative space, getting low to the ground is a proven method of creating a more dramatic image. Settling down on the grass may not be too comfortable on a cold, wet, wintery day, but it will change how your photos turn out. Getting down low gives an unusual point of view and brings the foreground into the shot in a unique way. Sometimes it's not easy to get your eye to the viewfinder when you lie face down on the ground, so use the Leica Q's LCD screen instead. The touch-screen can help you focus on the area that's your main area of interest. This will help you avoid a twisted neck, but more importantly, it means you avoid accidentally focusing on any blades of grass that catch the attention of the autofocus selection points.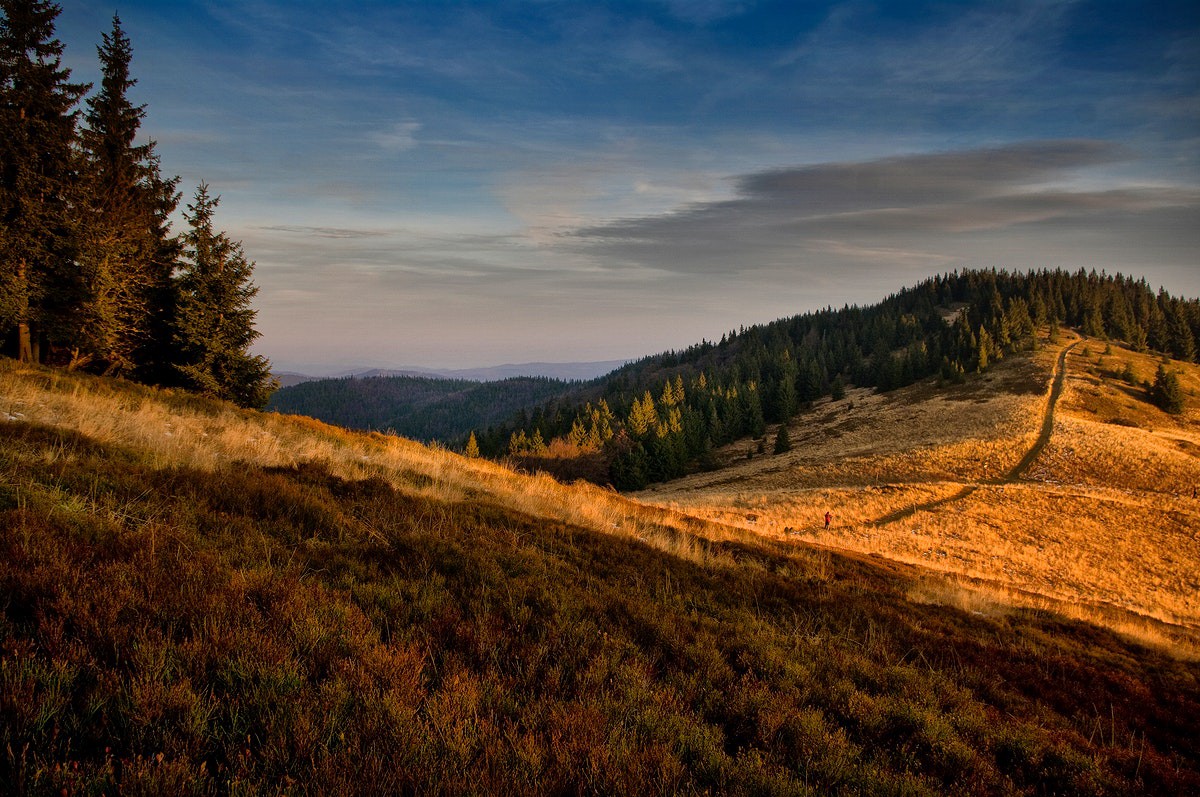 The Aperture: One of the reasons I bought my Leica is its aperture range. I love the option of f/1.7 in everyday shots to blur the area behind the subject. A soft background isn't useful in landscape shots, but the wide aperture is handy for making crystal clear images during Golden Hour. You can keep it set to 100 ISO, and you'll have beautiful detail from corner to corner in your image. The optical stabilization covers most situations with ease. When I know I'll be shooting in low light, I take a tripod to ensure that camera shake isn't sneaking into my pictures when I have long shutter speeds. With its small lens, I'm probably being overly cautious during Golden Hour, but it is essential when doing astrophotography.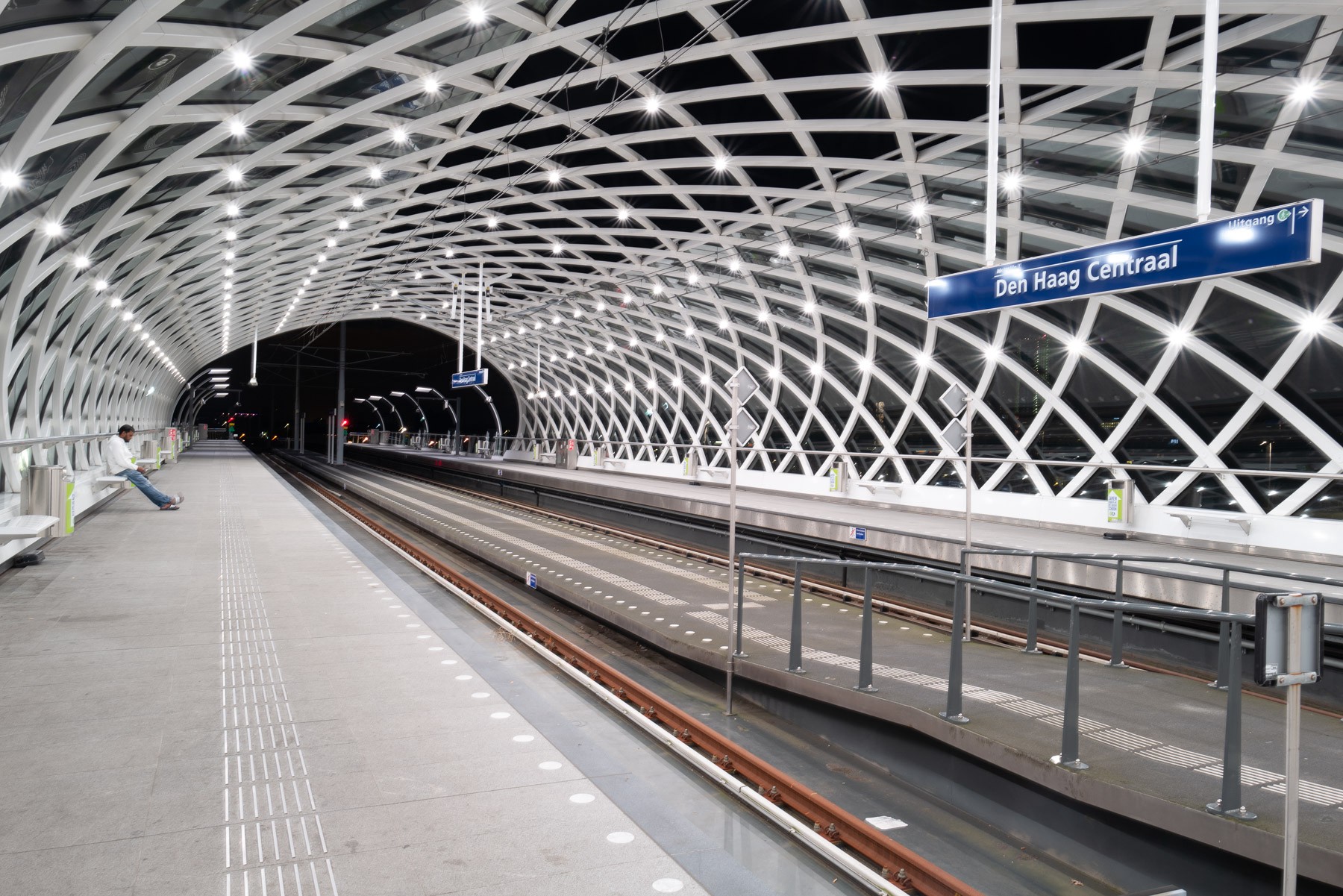 Manual Focus: The autofocusing on this camera is fast and reliable. It shouldn't ever be a problem, but it's nice to know you can easily switch over and manually focus in tricky situations. Sometimes it's nice to take matters into your own hands and use the manual focus option. And setting the lens to infinity is an excellent way to avoid the autofocus searching for a distant subject in dim conditions.
It's Compact: Heading out for a day of photography has never been easier. I slip the Leica Q into my jacket pocket or backpack and start heading towards those hiking trails. I don't have to decide which lenses to take and which to leave behind; the Leica is a sweet little package containing all I need. I'm constantly amazed that such high performance comes from this compact and rugged camera.
Landscapes and More!
Are there better landscape cameras than the Leica Q on the market? Of course! But I won't swap my Leica for any of them. I love the flexibility and performance of this stylish and dependable camera. It's simple to use, and it delivers exceptional results every time. Whether heading into nature to shoot landscape photos, going to a wedding, or snapping portraits on the street, I know I'll end up with images I'll be thrilled with. It's an excellent all-rounder that I've relied on for years, and I can't imagine it leaving my side any time soon.